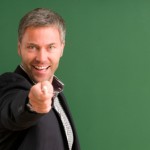 Teaching is, after all, a form of show business.
– Steve Martin, Born Standing Up
Yes, that Steve Martin. And no, he didn't have an arrow through his head when he said it.
In his memoir Born Standing Up, Martin recounts his undergraduate days as a scholar-clown. Playing the villain in melodramas at Knott's Berry Farm and honing his oddball variety act at clubs around Southern California in the 1960s while also studying philosophy at UCLA, Martin was a man with feet firmly planted in two worlds: academics and shtick. And even as he began to gain confidence as a performer, he considered hedging his bets on a future in show business by preparing for a teaching career. "I continued to pursue my studies and half believed I might try for a doctorate in philosophy and become a teacher (teaching is, after all, a form of show business)."
In the end, Martin dropped out of college to accept a job as a TV comedy writer. Though we can wonder at what the world would've missed out on had Martin taken that philosophy degree and spent his life behind a lectern, Martin's fans know that academia's loss was popular culture's gain: he is a philosopher in comedian's clothing.
But what of Martin's assertion that teaching is a form of show business? Certainly there's been enough crossover success stories to suggest that accomplished teachers and performers share a skill set. A few examples follow:
Her politically-tinged stand-up act landed Joy Behar a daytime gig in 1997 as one of the original panelists on The View. Working the comedy club circuit in the 1980s, Behar's rap was steeped in cultural, social, and political commentary. Just one tipsy heckler can turn an ordinary gig into a nightmare, but as a young comic starting out, Behar knew how to command attention and handle unruly audience members. After all, she'd taught high school English on Long Island.
Behar's years in the classroom presumably gave her a measure of experience, if not confidence, marshaling the attention of a disparate audience and keeping them engaged in her spiel. Teaching high school English asks that the ultimate authority of the teacher be tempered by the necessary give-and-take that comes with dissecting literature. A similar  exchange is implied in the relationship between a stage performer and her audience, built upon communication, comprehension, and hopefully an occasional laugh.  Conveniently enough, Behar's third career as a panelist on The View is a hybrid of the first two: equal parts educator, commentator, interviewer, and satirist, Behar lives in the shaded part of the Venn diagram in which teacher meets performer.
Other former English teachers you may have read: Stephen King and J.K. Rowling. Writers sometimes workshop new material with a group of their peers; King and Rowling may have solved some of their own early structural problems while also helping students solve their own. Now it's true that King and Rowling, prolific and celebrated as they are, are not performers per se.  But they are professional storytellers, and both move through the world more like rock stars than typists. In fact, King is a bona fide rock star as a guitarist for the Rock-Bottom Remainders, a supergroup of authors with instruments. And for added rock-n-roll cred, consider that before he joined The Police, Sting was known as Mr. Sumner to his English students in northeast England, which is amusing until you begin to rethink the lyrics of "Don't Stand So Close to Me"…
And speaking of rock stars…she's a headliner now, sure, but Sheryl Crow's first audiences were of the pint-sized variety. As an elementary school music teacher in Missouri, Crow introduced her young charges to half notes, rests, and recorders. With her weekends free to gig with bands, Crow eventually met the musicians and producers who helped launch her recording career. A room of seven-year-olds given unfettered access to a box of percussion instruments makes for a tough crowd, but Crow could draw upon the skills shared by the best teachers and performers: charisma, command of the stage, a passion for the material, and the ability to articulately communicate both feeling and meaning..
A curious inverse of the teacher-to-performer path described above is the career trajectory of Tony Danza. After earning an undergraduate degree in history education, Danza was pursuing a middleweight boxing career when he accidentally became a famous actor, singer, and dancer after being discovered at the gym. Taxi, Who's the Boss? and multiple Broadway runs later, Danza finally went to the head of the class a few years ago.
In 2010, Danza starred in A&E's reality show Teach: Tony Danza, a docu series that followed Danza as he taught high school English in Philadelphia. The series, set in Philly's largest high school, showed the veteran performer feeling his oats as he taught To Kill a Mockingbird to 10th graders and offered coaching to the debate and football teams, The impetus for the show, Danza explained, came as he looked back at the "what ifs" of his young adulthood: had he not gotten lost in Hollywood on his way to a teaching career, could he have made a good teacher?
The series laid bare the overlapping skill sets of talented educators and live performers. Imagination, a deep mastery of the subject matter layered with an ability to improvise, and an eagerness to build and maintain connections with the audience, er, students in their seats.
Never question the wisdom of Steve Martin.