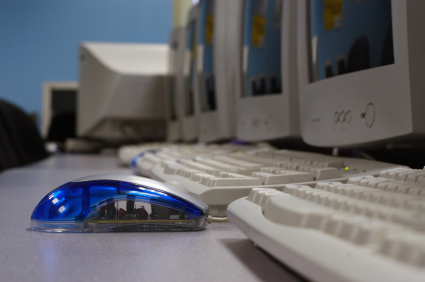 Instructional technology in the classroom is an innovative way to use the computer to motivate your students to learn. Using electronic means, you can teach your students how to search and interpret information and how to use computers for various projects. This article outlines the basics for instructional technology and offers you real solutions for creating and finding lesson plans tailored to fit your classroom.
Maintaining Online Learning – Only Classrooms: One Disadvantage
While you may be using instructional technology part-time or occasionally in your classroom, some classrooms operate by computer learning all the time. There are advantages and drawbacks to having class only online. It may help in some situations, however, when students are sick and unable to come into the regular classroom, or on vacation. Having an "online portal" for around the clock learning can also help when students are in different time zones.
One drawback of online-only learning, according to the University of Oregon's Instructional Technology in the Classroom article, is that technology is changing rapidly, almost too quickly to keep up with. Teachers, especially fine arts instructors, who use computers and Internet learning portals as primary means of instruction in the classroom, may have to attend several workshops per year or read books on the subject, just to stay ahead of the game.
Advantages
There are many advantages to online learning, however. Foreign language instruction is one of these. Foreign language instruction online is made easier with programs and comprehensive online learning. There are also free foreign language instruction websites online that can help students learn the basics. Education-Portal.com offers a list of free language instruction websites, including those from BBC and Carnegie Mellon.
Instructional Technology Devices
The most common device that schools offer, or even require students to have is a laptop. Beyond that, schools are also starting to invest in more mobile technology, such as the iPad or the Nook. Portable technology is starting to become a standard, because it can be transported and moved easily, from school to home.
Internet Safety
Before instructing students to use the Internet for a project, educators should go over a few web safety tips. Instructors can go over the dangers of online surfing, instruct students not to click on links they are unsure of and how to make sure a site they are using as a source is credible.
The Internet Safety list has many resources, such as video episodes teaching kids about online dangers and problems.
Writing and Blogging in the Classroom
One exercise to get students writing is to introduce them to blogs. The Blogs and Blogging: A Home Run for Teaching, Learning and Technology, offers teachers possibilities for blogs. Classrooms can even run a joint blog, alternating students who post. Over the course of a month, a teacher can assign a different student to post each day, so that at the end of the month, each student recorded his or her thoughts.
Math and Science in the Classroom
Technology in the math and science classroom is imperative. The ability to show images on a screen may help students grasp concepts in a simplified manner. Computers can also help with computing and analyzing statistical data for math projects.
Resources
The Best Practices of Technology Integration in Michigan site offers complete lesson plans for using technology in the classroom for students in elementary, middle school and high school.