Are you sure your tweets are effectively reaching people?
Do you know how many times a link in your tweet is clicked?
You don't need an expensive program to help improve your twitter engagement. You don't even need to spend $1.
The free version of Hootsuite provides some pretty useful, basic analytics so that your twitter engagement is more effective than just blindly sending tweets.
Free Things Have Its Limitations
Now, there are limitations to the free version of Hootsuite. Obviously. The pro version of Hootsuite, which is $8.99/month, provides much more sophisticated features with deeper analytics for Twitter and Facebook.
The basic analytics features that the free version provides are only for Twitter, which can be a problem for businesses that heavily rely on Facebook. But, Facebook itself provides some analytics that are pretty useful.
We have been using the free version of Hootsuite and the basic analytics that it provides for Twitter have been very insightful.
Analytics For Twitter
Hootsuite's free version provides 9 analytics features for Twitter. Each can be set to a set range of dates so that your observations are more controlled.
Profile Summary
The 'Profile Summary' shows you the number of followers you have, how many people you follow, and how many lists you are on. This feature is purely informative, meaning there isn't much you can do with it. But it is quite nice to see how many lists you're on; it lets you know that people value your content enough to exclusively put you on a list.
Keywords Over Time
The 'Keywords Over Time' feature provides information on the popularity of a specific keyword.
Are you a publishing company? You can select keywords like, 'publishing' or 'authors', to see how much of a popular term they are in the twittersphere.
Mentions by Influencers
This feature is quite interesting in that you can see the top twitter users that have mentioned you in their tweets and how many times they did so. Having a list of high-authority twitter users that have engaged with you is important; you can engage with them more directly by tweeting them with their handle. It will help your twitter account get more exposure and your message reach more people. Make sure to join in their conversations to build a relationship within their communities.
Summary Stats
The 'Summary Stats' feature gives you the exact total number of clicks you got on the links in your tweets. This feature does not really help you improve what you tweet, but it's a nice visual feature to see how many times your tweets were engaged with.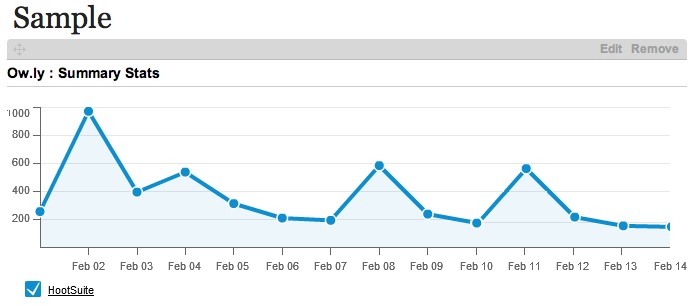 Clicks by Region
'Click by Region' is useful in that you can see the global reach of your tweets. You may not have even known you had active followers from the Netherlands! Knowing this piece of information can impact the way you target your audiences in other marketing strategies. Perhaps, now you will target your press releases to different countries if you have a big enough following there.
Top Referrers
This feature provides you with a list of the most popular referrer domains for all links sent via your Twitter profile. Not only does this list provide the referrer domains for all of your links, but it also shows how many times each referral was made.
All Links
The 'All Links' feature provides a complete list of all the links you have sent through tweets as well as how many times each link was clicked. It is essentially a list of the type of content you sent out to your followers.
This feature is similar to just going back to your twitter profile to see what tweets you have sent out. But, it refines the list exclusively to links you have sent out via tweets.
So, if you want to access a webpage you tweeted months ago, this list will be the place to go.
Most Popular Links
Are you curious as to what kind of content your twitter followers are engaging with the most? This feature is very helpful in the pursuit of such information.
It provides you with a list of links that have been clicked the most, thereby giving you information on what kind of content your audience enjoys. Effectively utilizing this piece of information can impact your Klout Score in that you can consciously tweet content that are more likely to encourage interactions, ie. clicks.
Click Stats
Let's say you have a newsletter sign-up box on your website that you are trying to lead your twitter followers to. The 'Click Stats' feature helps you to see how many clicks a specific link receives within a specified range of dates.
It is a useful way to see whether or not your tweets, and in extension, the Twitter platform is an effective means to lead more potential subscribers to your newsletter mailing list.
Don't Just Look At, But Utilize Basic Analytics
You may be tempted to think, "I need the most advanced analytics tools so that my business succeeds." This is true to a certain point.
More importantly, you need to utilize the tools to reap the benefits, regardless of whether or not you're paying for them.
We're not saying that the basic version of Hootsuite is better than the pro version. But, fully utilizing the analytical features that the basic version provides can result in very effective engagement on Twitter, which can grow your business.
Perform basic analytics to use better keywords in your tweets, grow relationships with your top influencers, and track how your previous tweets performed.
In this fast-paced, digital environment, it's imperative that you reflect on how effectively (or ineffectively) you are participating on Twitter and make necessary adjustments.
What analytics tools do you use for social media?